A Lying Politician: Rob Ford
Some dub him as the "Lance Armstrong of Toronto Politics" while others bluntly call him a "bully" and a "liar".
No matter what you label him, one thing's for sure: Toronto Mayor Rob Ford is under major scrutiny since he admitted on Tuesday, November 5th that he smoked crack cocaine, an allegation that he has vehemently denied since May of last year.
"I wasn't lying; you didn't ask the correct questions," Ford said Tuesday. "No, I'm not an addict and no, I do not do drugs. I made mistakes in the past and all I can do is apologize, but it is what it is."
According to the NY Times, in a tumultuous four-year term that will draw to a close next year, Ford has been accused of a litany of boorish actions, profane outbursts and insensitive comments — so many, in fact, that one of his critics felt the need to compile a spreadsheet to keep track of them all.
Take a look at two videos below. The first is of Ford denying his alleged drug use back in May of 2012. The second is of his press conference right after his admittance on Tuesday.
What kind of changes in behavior do you see between the first and second video?
Do you see any hot spots in the first press conference?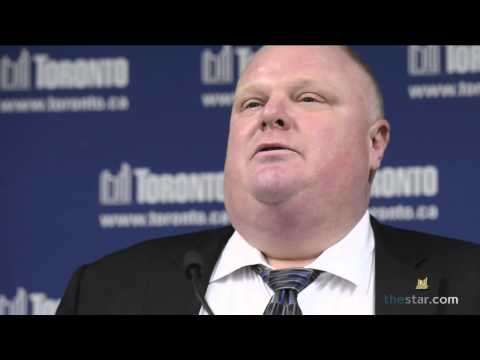 One response to "A Lying Politician: Rob Ford"