LeBron James Bumps Coach Erik Spoelstra
Miami Heat forward LeBron James may have been a little upset during a timeout during his team's November 27th game against the Dallas Mavericks.
During the third quarter of the basketball match, LeBron bumped into coach Erik Spoelstra while walking to the bench.
A complete description of the confrontation is given in detail at the CBS Sports Blog
What is particularly interesting is the expression on Coach Spoelstra's face before and after LeBron bumps into him.
From around 0:10 to 0:17 Spoelstra is clearly not happy. But once LeBron bumps into him, his macroexpression of anger (brows drawn down and together, eyes glaring) seems to be even more pronounced.
What is also interesting to note is Spoelstra's lack of surprise when LeBron bumps into him. This raises some questions: did he perhaps anticipate the altercation?
It is unfortunate that we don't get to see LeBron's face from the opposite angle. Our guess is that his expression looked similar to that of his coaches'.
A slow motion video of the altercation can be seen here.
Thanks WC for the link!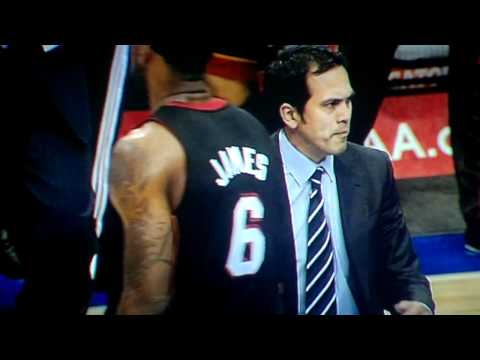 4 responses to "LeBron James Bumps Coach Erik Spoelstra"