Subtle Disgust
Some of you may have seen Miss California Carrie Prejean on the Miss America Pageant last year. Prejean was faced with a tough question during the Q&A portion of the show, when she was asked her opinion on gay marriage by Perez Hilton, a popular Hollywood blogger.
While you may or may not have agreed with Prejean's answer, did you notice the subtle disgust she showed while Hilton was questioning her?
Take a look at the video below and our commentary: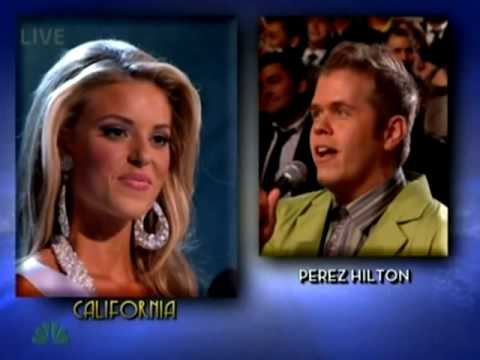 0:19-0:24 Hilton says "Vermont recently became the 4th state to legalize same sex marriage"
The camera pans to Prejean at 0:24. Notice the subtle disgust Prejean is showing around her nose area, producing a very subtle horseshoe shape.
Freeze frame particularly at 0:28 seconds. Notice the horseshoe shape is even more prominent now that Hilton has asked her "Do you think every state should follow suit, why or why not?"
Prejean answers: "Well I think its great that Americans can chose one of the other; um, we live in a land where you can choose same sex marriage or opposite marriage. and you know what? In my country, and in my family I think that I believe that a marriage should be between a man and a woman, no offense to anybody but that's how I was raised and that's how I think it should be between a man and a woman. Thank you"
Obviously, she is very nervous and stutters through her answer (as probably any normal person would be).
Her word choice is particularly interesting and a bit ironic, since through her statement, she clearly offended people: "No offense to anybody, but that's how I was raised and that's how I think it should be…"
What do you think Prejean's true feelings were at this time and what do you think about her word choice?
16 responses to "Subtle Disgust"